School romance anime are anime that talk about each person's best time. Whether it's for nostalgia, fantasy, or just being immersed in a good story, this genre is a place for viewers to discover some of the top anime out there. Here are the Top 10 Best School Romance Anime for for all of you who can't watch enough school romance anime.
The 17-year-old young man, Kiriyama Rei, lives alone, and currently relies on money from the money he received when he was a professional Shogi player. Although he was independent in every way, he had to go through quite difficult childhood stages. The relationship with his adoptive family is increasingly strained, he can hardly make friends with other people. Meanwhile, his Shogi career is slowly coming to a standstill. Rei was originally the expectation of many people, but it was this expectation that became a burden for him. Along with Rei are the 3 Kawamoto sisters: Akari, Hinata and Momo. Unlike Rei, they live happily in their beautiful little house. At that place, Rei was welcomed like a relative. Although he was a bit reserved at first, he also visited his family more often, because there was a love and warmth there that he had never felt during his teenage years.
This beautiful story is about individual growth and resilience. While not usually classified as a romantic anime, it is an anime that shows the importance of all the relationships in our lives and how they change over time and circumstances.
9. Koi wa Ameagari no You ni (After the Rain)
Koi wa Ameagari no You ni (After the Rain) is adapted from the manga of the same name by author Jun Mayuzuki. The story revolves around Akira Tachibana – An innocent, beautiful high school girl who is 17 years old. At the same time, a girl who never shows herself. However, she carries a secret secret, which is a heavy crush on the 45-year-old restaurant manager Masami Kondō. Will their love be big enough to overcome the barriers of life?
After the Rain is an animated romantic drama that examines the circumstances of how we fall in love and who we fall in love with. While the anime has lighthearted elements, it includes mature themes in its plot, so may not be the right choice for those wanting a traditional high school romance. Despite that, the animation is pretty decent and the plot is engaging enough to earn it a spot on this list.
8. Tada-kun wa Koi wo Shinai (Tada Never Falls in Love)
Tada Mitsuyoshi, who has never had a love affair, once absorbed in taking pictures of cherry blossoms, happened to meet Teresa Wagner – an international student from Luxembourg who was lost in a tour group to visit Japan. . Mitsuyosh helped Teresa and brought her to his uncle's cafe and the story of their love began to be written from there.
A romantic comedy-anime, Tada Never Falls in Love is a refreshing balance of both colorful, poignant, and serious romantic moments. Our main character Mitsuyoshi is someone who has closed his heart for years and has never really connected emotionally with anyone and so you as the audience will get to see how he is. develops these feelings and how he handles them.
7. Sukitte Ii na yo. (Say "I love you")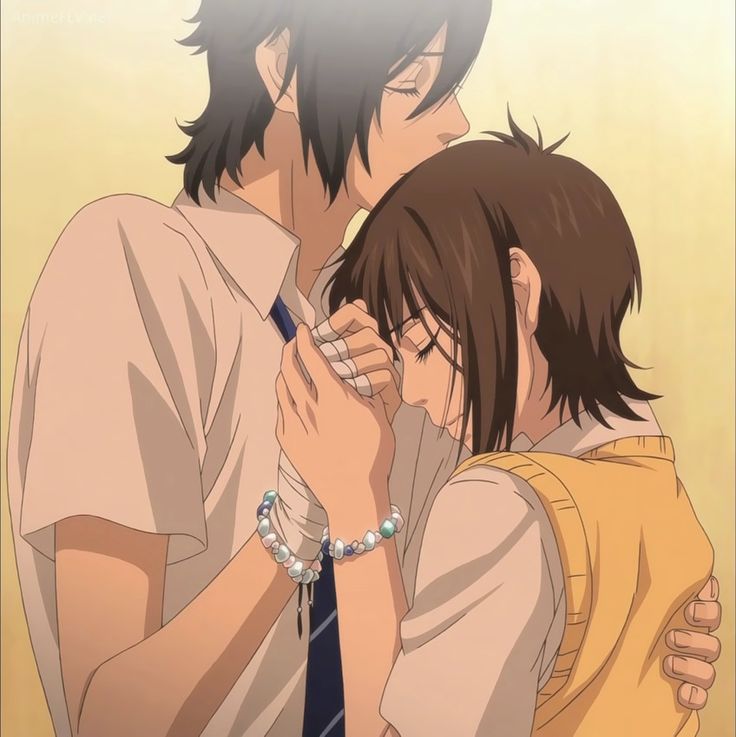 Say I Love You tells the story of the main heroine Mei Tachibana's life, ever since she was wrongly blamed for the death of a class pet by her so-called friends. her classmates, she had always lived under uncomfortable pressure. Since then, she has stayed away from people to avoid getting hurt again. However, Mei's life begins to change drastically when a misunderstanding in high school causes her to run into popular student Yamato Kurosawa. Yamato on the other hand finds her attractive and insists on being his friend, even though Mei wants nothing to do with him. But when a dangerous situation ends with Yamato kissing Mei to save her from the unwanted attention of her stalker, Mei begins to develop feelings for him. They start dating, Mei and Yamato gradually get closer and learn the true meaning of those three little words: "I love you."
A classic high school romance of an outcast girl who meets a popular boy. This anime deals with what happens when one or both parties are still not ready to pursue their feelings while facing unwanted attention or teasing from their classmates. This is a great anime for those who enjoy a social outcast.
6. Orange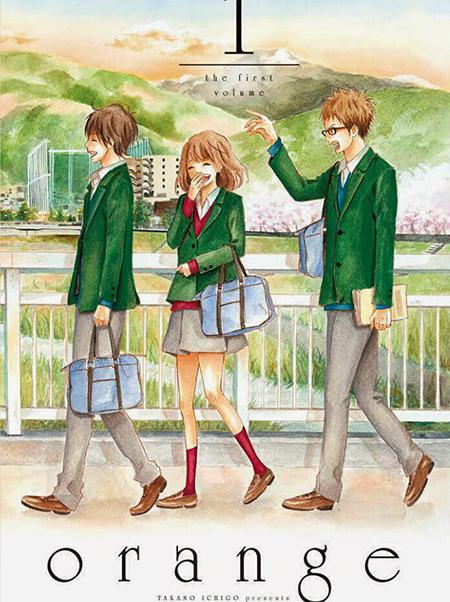 In the spring of 16 years old, Takamiya Naho received a strange letter that was sent by herself. The letter writer identifies herself as the Naho of 10 years in the future, she writes this letter with the hope that the present Naho will not repeat her mistakes. The letter is like the pages of a diary, recording upcoming events from Naho forgetting to set the alarm clock so he wakes up late or his friend Naruse Kakeru who just moved from Tokyo and sits right next to her. A story with cute details, set in the peaceful countryside of Nagano City, Japan!
Orange is a school romance and drama anime that deals with sensitive issues of depression and regret. We don't often see depression or mental illness alluded to in school romance anime for one reason or another, yet Orange has done a great job of incorporating all the necessary tools to balance those out. That theme with romance. If you are looking for something more serious, this anime is for you.
5. Just Because!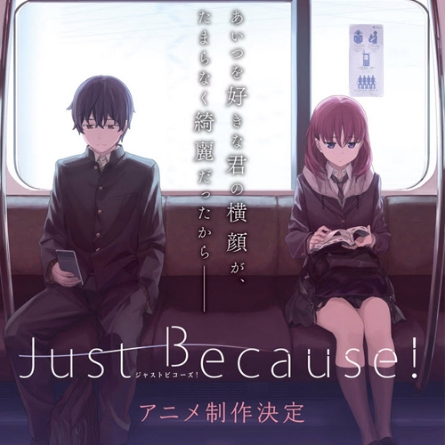 In the winter of my senior year, the second semester of high school is also coming to an end. There's not much time left in school as graduation is drawing closer.
Until he suddenly returned…
He was their classmate in middle school but transferred to a far away place. He returned at a strange time and they were reunited. His return was like the beginning of feelings in the hearts of the students, just when they thought their school days were about to end.
Just Because! is a great addition to the list of school romance anime. It begins in a tumultuous time for the characters, just as we are in the midst of important stages of our lives. At first, the audience and the characters may worry, whether there will be enough time for the romance to move in a satisfying direction. This is perhaps what distinguishes this anime from others on the list in how effective it is at handling the continuation or ending of past high school relationships.
4. Tsurezure Children
Tsurezure Children takes us through the lives of various high school students, highlighting different moments in their romantic journeys. From mustering up the courage to confess your feelings to someone who's just friends to what happens after the confession you two start dating. The road to love is a bumpy one and these high school students will do what they can to make it a success.
It is a short-format, romantic comedy anime with approximately 12 minutes each episode. Each episode is dedicated to focusing on different couples at different stages in their relationship and brings a fresh sense of humor to the genre.
3. Ao Haru Ride (Blue Spring Ride)
Ao Haru Ride is adapted from the manga of the same name written by Io Sakisaka. The anime Ao Haru Ride tells the story of a young girl Yoshioka Futaba and her beautiful high school love. In middle school, because of her cute and pretty appearance, Yoshioka was jealous and ostracized by the girls in her class. She also secretly has a crush on a boy named Tanaka-kun but is unable to confess. In high school, Yoshioka decided to change her image and change her name to Mabuchi Kou to start a new life. By chance, she reunites with the boy she secretly loved Tanaka-kun with a new name and different appearance. Will Yoshioka's love be returned this time? All will be revealed in the episodes of the anime Ao Haru Ride.
Blue Spring Ride is a school romance anime that, like Just Because!, deals with the beginning of a relationship over time. It shows the gap two years can make in us when connecting with people we once had feelings for. How do we deal with the feeling that someone is no longer the same as they once were? You will find this anime on many must-see lists. It is sure to please any fan of classic school romance.
2. Tsuki ga Kirei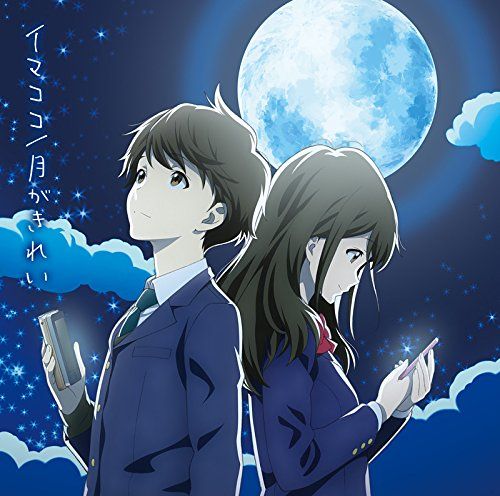 Tsuki ga Kirei is about Kotarou Azumi and Akane Mizuno entering their third year high school life by being classmates. The two friends begin to forge their relationship, along with other close friends Chinatsu Nishio and Takumi Hira. The group shared their feelings and understanding with each other. The four of them went through their senior year together with challenges and eventually grew up and realized the changes in their personalities.
This anime does a great job of building up the romantic theme so that the viewer feels not like a fantasy version of romance but a real-life relationship between two young people with all the awkward, nervous pauses. and the small win that comes with it. This is an anime for those who need to relax and immerse themselves in a good story.
1. Shigatsu wa Kimi no Uso (Your Lie in April)
Shigatsu Wa Kimi No Uso (Your Lie in April) is adapted from the manga of the same name by author Naoshi Arakawa. The story is about Arima Kousei who was originally a piano prodigy, but since his mother's death, he has stopped playing. These mixed emotions make his life difficult and boring. Until I met Miyazono Kawori, a vivacious, beautiful, and personality violinist, everything changed.
It wouldn't be fair to leave Your Lie in April off the list of school romance anime. A heartfelt and sometimes heartbreaking story, this Anime does a great job of highlighting the importance of mutual support and kinship in relationships and the difference it can make. On top of the story, this anime offers stunning visuals and a great soundtrack to add to your classic playlist.