If your hobby is funny anime from the first minute to the last. Then here are the anime that will bring you the most comfortable, refreshing laughs. Let's discover the Top 10 Funny Anime that make you laugh and cry.
10. Tanaka-kun wa Itsumo Kedaruge (Tanaka-kun is Always Listless)
Dozing off, sighing, hands on chin… Tanaka-kun never tried his best, yet the silent Oota couldn't leave Tanaka-kun alone. A gentle story with a bit of humor about the lives of two schoolboys.
With no other realistic plot than Tanaka's dedication to the easy life, much of this anime's brand of chilling humor stems from its character-driven story, slow-paced comedy, and short-lived lines. comfortable jokes. The engaging nature of this sitcom is what makes it so fun, a far cry from the over-the-top comedy anime that most comedies love.
9. Isekai Quartet
Isekai Quartet is known as a pretty special anime series, this is a very funny anime, the content in the film is a story about one day, when suddenly a powerful magic button appeared. The main characters in our story are KonoSuba , Overlord , Re: Zero are currently living quite peaceful lives in their worlds suddenly Saga of Tanya the Evil pressed the button and what came in the end came, it moves all the characters to a parallel world, where they become a completely new isekai compared to the world they exist in, where the main characters' high school lives are told.
The Isekai Quartet shows us the final crossover done right with fun hijinks and funny chibi characters. A true treat for the aficionados, it churns out fast-paced jokes, crazy situation comedy, and hilarious jokes in a short 12-minute run. We recommend catching up to isekai quickly so you can enjoy this mysterious gem.
8. Asobi Asobase (Asobi Asobase: Workshop of Fun)
Asobi Asobase is a school, comedy anime series based on the manga by author Rin Suzukawa. It aired on July 8, 2018 and is produced by the Lerche studio. The film is a funny and interesting story revolving around three girls Honda, Olivia and Nomura. This trio of girls is extremely passionate about Japanese games. To satisfy your cravings. They decided to form the "Passion Club". In this club, the three girls organize mini games every day. Quirky and funny games took place. Along with that are the extremely silly and equally adorable punishments of these three girls.
Without any actual plot, this anime uses funny jokes, intense facial expressions. From strange activities, to quirky jokes, to unexpected escalations, Asobi Asobase makes school life incredibly enjoyable. This healthy living comedy will make you reminisce about your own school days.
7. Grand Blue (Grand Blue Dreaming)
Kitahara Iori looks forward to spending his youth on the Izu peninsula as he prepares to begin his university life there, staying in a room above his uncle's "Grand Blue" dive shop. However, he is quickly shocked when he encounters the local Diving Club, a group of young men who spend more time drinking, partying and nudity than focusing on professional activities. Despite his efforts to stay away from the group, Iori quickly gets caught up in their antics, while his cousins ​​try to show him the wonders of diving into seas and oceans. Thrilling jokes, humorous breakout stories, hilarious quotes, and ecchi comedy, Grand Blue is a great anime for people who just want to laugh without having to concentrate.
6. Watashi ga Motete Dousunda (Kiss Him, Not Me!)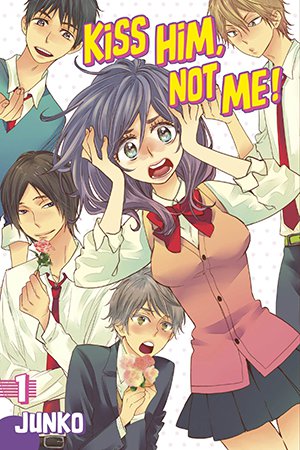 Serinuma Kae is a rather curvaceous (fatty) schoolgirl and a true fufufufu, which means she's super excited when she sees boys hanging out. One day, her favorite manga character died, she was in shock, lost sleep, and lost weight because of that, making her appearance suddenly become slim and good-looking. than. From here, Serinuma began to receive the attention of a group of handsome men. For anyone, it's happiness, but for a girl who likes boylove like Kae, this is a difficult situation…
Kiss Him, Not Me! sure to make you laugh whether you're a fujoshi or not. If you love to laugh at shoujo games, find humor in satirical comedies and enjoy a twist of otaku culture, then buckle up for the wild rides that chase Kae Serinuma!
5. Uramichi Oniisan (Life Lessons with Uramichi-Oniisan)
The film focuses on a 31-year-old man named Uramichi Omota, who possesses two extremes of personality. This guy is the young man in charge of physical exercises in the educational program "Maman to Together". Although he was quite bright and optimistic in that program, this guy's emotions were actually not good at all… The drama is a revelation to young people's lives.
While we've had plenty of anime highlighting the pains of coming of age, this short satire about work culture and adulthood is perfect for those who enjoy the workplace blues. If you're a little melancholy and lost a lot, jump into the dark comedy Uramichi-Oniisan. Enjoy the petty jokes and sharp dialogue, and let this hilarious uproar in adulthood bring a smile to your face!
4. Horimiya
Hori-san is a popular female student who looks like an "unrealistic" student in the class, but in reality, she leads a very simple, pragmatic and introverted lifestyle. On the other hand, Miyamura-kun looks like a high school fanboy in glasses, but is in fact a very attractive guy with badboy tendencies, piercings and tattoos. When these two surprisingly similar classmates accidentally meet outside of school, a sweet, vibrant story about school life begins!
If you want a sweet, healthy love affair with a relaxing side of laughs incorporated into the story, then Horimiya is worth a try. This highly anticipated and critically acclaimed anime is sure to please.
3. Kakushigoto
Kakushigoto focuses on father and son, Kakushi and Hime Goto. Kakushi loves his daughter more than anything, but he doesn't want his fourth grader, Hime, to know that her father is a vulgar manga author for fear Hime will be angry when she finds out. With the help of his editors and assistants, Kakushi tries to keep his profession a secret from his daughter.
Unlike most comedy anime series that begin and end with a plot, Kakushigoto is aiming for something very different. Outrageous jokes, ludicrous paranoia, and misinformation (Kakushi forgets there are three women who think he's in love with them) are great for laughs, but the father-daughter relationship is genuine. That's what really drives the story. If you want your comedy to be a little extra, then try this beautifully drawn anime that defies expectations as it delves into family exploration with real bitterness, making you pop. laugh and shed tears.
2. Kaguya-sama wa Kokurasetai: Tensai-tachi no Renai Zunousen (Kaguya-sama: Love is War)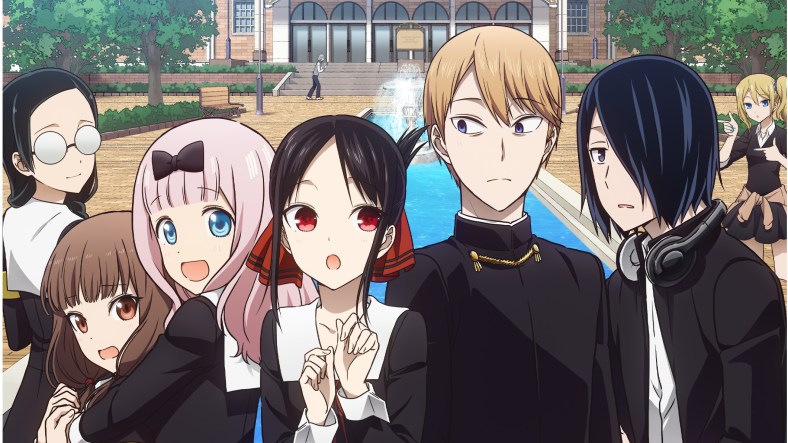 Attending the same school, Kaguya Shinomiya and Miyuki Shirogane, who were the most academically outstanding people, naturally held high positions in the Student Council. Because she ranked first in the audition, Miyuki became the president. On the surface, everyone thought they were a perfect couple but because of their inexperience in romantic relationships, a lot of trouble happened to them. Both are too confident in themselves and don't want to be the one to confess because it means they lose. Thousands of situations, traps that the two sides set up to lure the other party to speak first. An interesting and funny fight between two geniuses. If you like over-the-top jokes, hilarious fights, and fast-paced dramatic comedy, try Kaguya-sama: Love is War, it won't let you down!
1. Mob Psycho 100
Kageyama Shigeo (also known as Mob) is an "ordinary" 8th grader who possesses supernatural powers. From an early age, with his spiritual power, he was able to bend spoons, and lift objects, but gradually Mob began to suppress his strength because of the troubles he caused in the past. Right now, the only thing he wanted to do was make friends with the girl in his class that he liked. Together with his "spiritualist" master Reigen (who turns out to be just a con man), Mob gradually realizes his goals in life.
If you like the deadly nature of a stoic MC, man cultivates a character so strong that he need not worry about the inherent danger of that person and the sheer absurdity that this premise holds. brings, then Mob Psycho 100 is the perfect choice for you!