As we know Manga has many different genres in life. It gives us a lot of fun and different perspectives in every work we read. And today we would like to introduce one of the genres that are also interested by a large number of readers, which are sports stories for sports fans.
10. Cross Game
This sports manga is Mitsuru Adachi's masterpiece about baseball. The story showcases the best of the sport while also linking it to the lives of the characters in the story. Also, this details the expectations of the character and the nature of baseball. If you love this sport then this is the piece for you.
09. Eyeshield 21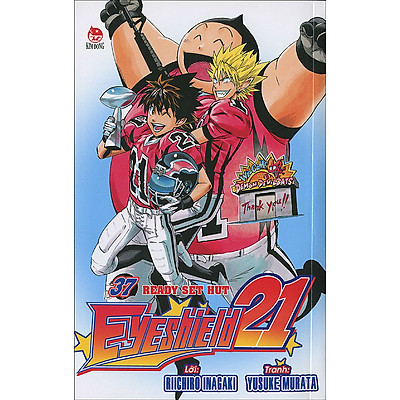 The plot of Eyeshield 21 revolves around a sick and shy boy Sena Kobayakawa, a student at Deimon Private High School. The story revolves around this character and his development. This is a sports manga mixed with very interesting humor, the author has a very rich imagination. As the story progresses, the story loses its inherent humor, but instead is filled with intense suspense, fierce ball fights and unique moves.
08. Diamond No Ace Act II
The story follows Eijun Sawamura, a pitcher, about his transformation. That makes it easier for him to get to glory. The story tells that perseverance and hard work will lead to success. Diamond No Ace Act II, is the sequel to the first Diamond No Ace. For many fans, this is a worthy successor to the original. This is a great manga to read for those who love the sport of baseball.
07. One Outs
Adapted from Shinobu Kaitani's manga series Liar Game famous, One Outs chronicling the intense psychological battles between Toua and those around him. Toua Tokuchi is a professional athlete, but a reckless gambler. "One Outs," a simplified version of baseball between a pitcher and a hitter. Can a pitcher who does nothing but gamble on a baseball game, ultimately lead a baseball team to actually win?
06. Hajime No Ippo
The story is about Makunouchi Ippo, a 16-year-old student bullied by his classmates, who is rescued by Mamoru Takamura's martial artist. He was then taken to the Kamogawa Boxing Gym. Discovering his talent in boxing, he decided to train to become a professional athlete. He finds out what it means to gain true power and seek glory.
05. Real
The story revolves around three teenagers: Nomiya Tomomi, a high school dropout, Togawa Kiyoharu, a former sprinter who now plays basketball in a wheelchair, and Takahashi Hisanobu, a famous leader of the team. high school basketball, who is now hemiplegic after an accident. Real has a cast of characters who find themselves socially marginalized, but all united by one common trait: the desire to play basketball. Real also addresses the reality of physical disabilities, and the psychological inferiority that the characters struggle with. The characters overcome their own psychological barriers little by little.
04. Ashita No Joe
The story is about Joe Yabuki who lives in the poorest area of ​​Tokyo. There, Joe is noticed by a retired boxer, Danpei. But then, Joe got into trouble and was transferred to the youth education management center, where he got into a fight and was knocked out by Toru, the professional boxing champion. While incarcerated, Joe was trained through Danpei's letters. The day Joe was released, he quickly became a super boxer. Besides, Toru was also released and returned to his boxing career. And at the world championship, Toru meets Joe again, he wants to fight Joe. And both of them stepped onto the stage for a rematch.
03. Haikyuu!!
Shouyou Hinata is a young man with a small body but passionate about volleyball, he is only 170cm tall. The story shows his own desire to rise up, and he must fulfill his goal of making it to the top of the high school volleyball world.
02. Slam Dunk
The story revolves around the basketball team of Shohoku High School, with the main characters such as: hanamichi, rukawa, takenori, ono, ryota, … Slam Dunk is considered as the best-selling manga in the history of Japan with 121 million copies sold in this country alone. It is like an inspiration for many Japanese teenagers, helping them to love and gradually switch to playing basketball more, instead of playing baseball like before.
1. Kattobi Itto
Topping the list today is of course king sport (soccer). The story follows the life of Katori Itto (Jindo) and his mischief. Entering the world of the story is the laughter to tears, the actions of Itto can't be controlled. Each match was a stand-up comedy for him like he was on stage, a martial arts arena more suitable for such matches than a football field.